02 Jun

Summer update!
Hurray! Summer's finally here!
The sunshine finally arrived, and Millie, Molly and Regis were making the most of it here at Pooch and Purr!  We hope you all did too, and remember to keep a careful eye on your pooches for signs of heatstroke.
In this update we revise what we've been up to since our last post at the start of spring, offer some travel tips for our feline friends, and look ahead to see what exciting things we have in store!
But first…
We know so many of you are as eager as us to see our Pooch Hotel built. Since March, our architect has got the majority of the building warrant plans completed. We've now also appointed a structural engineer for the final parts of the drawings.
We've been in touch with construction companies yet again, and are just waiting to hear back!  All going well, we'll be able to put in the plans to building control by end of Summer.  We're so excited about what the future holds for our Pooch Hotel. Fingers crossed it won't be much longer to wait, and by the end of the year we'll be building it!
What we've been up to since Spring
Wedding bells were ringing in May! We had the honour of taking the handsome Leo (pictured left awaiting the arrival of his hoomins) and his brothers Caesar and Rocco to their owner's wedding at the Brig O Doon earlier in May.  The boys looked very smart with their gorgeous bow ties, and were so well behaved when it was time for the photographs.
We wish all the best to the newlyweds, Kelly and David, and we hope you got some fantastic shots with your furbabies on the day 🙂
Introducing our new menus!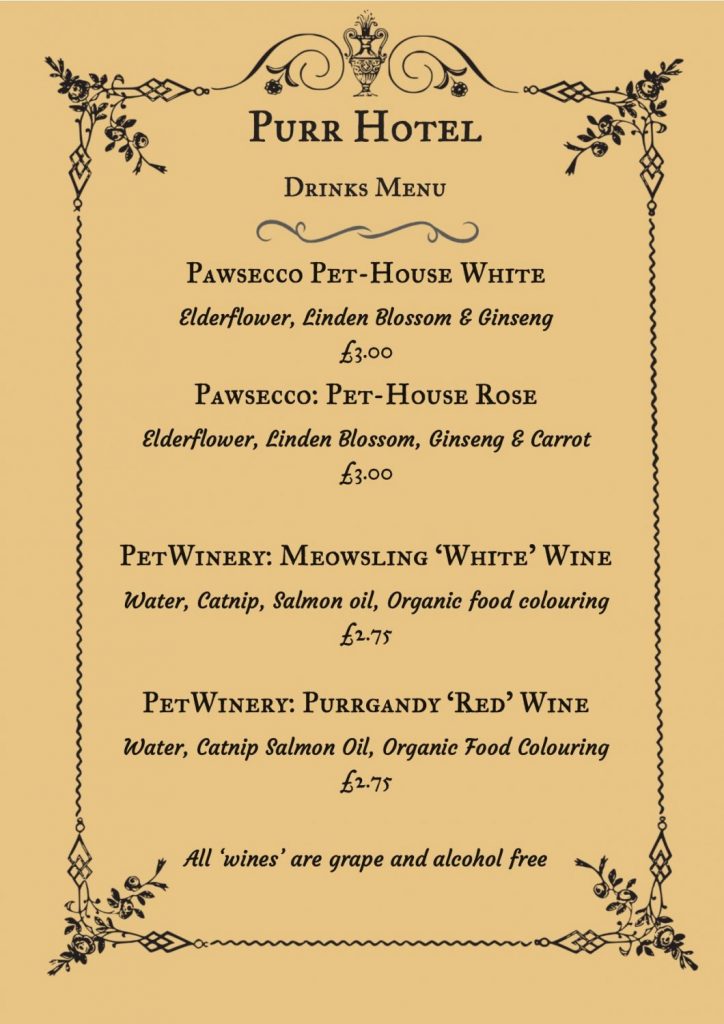 A the start of May we announced our revamped dinner menu, and our new A La Carte menu. We're also excited to now announce our new Drinks Menu!
We're passionate about pet food, and we always look to offer the highest quality foods on the market. Free from grains, cereals and meat derivatives, with a high meat content, and low carbohydrates, means no upset tummies.  This is why we're changing from Millies Lionheart and Applaws to Thrive and Nature's Menu. With a variety of flavours on offer there's something that even the fussiest of felines won't be able to resist!
Our A La Carte menu doesn't replace their main meals, but can be ordered as a treat or to celebrate a special occasion. We have three options: chicken breast, duck breast, and salmon fillet.  Throughout the various seasons and holidays we'll add on limited edition menu items as well as an extra special treat!
You can check out our new menus here.
Launching our luxury packages
Our luxury packages will be going live over the next week, and they start off with our birthday package, and our wedding package.
The birthday package can be for your kitty to celebrate their own birthday – or yours!  For £15 for one cat, they get their very own valerian cushion (a favourite of all our boarding clients) and a bag of luxury treats from The Innocent Cat, any dish off the A La Carte Menu, and a bottle of cat wine of your choice from our Drinks Menu too!  When their holiday is over, they can take their treats and valerian cushion home with them, as well as any cat wine that's left too.
Our wedding package includes boarding for the day before, day of, and day after, the wedding. Starting at £65 for one cat, this package also includes a dish from the A La Carte menu, a bottle of cat wine, and a 'chocolate' catnip mouse for dessert.
For the big day, we give your cat a quick groom with feline friendly dry cat shampoo, and take them to the wedding for photos for one hour as well.
Our new luxury packages will be up on the website soon!
Events for Summer
This weekend we're at the Newmilns show as well as the Carrick Lowland Gathering.  It's our first time ever at both shows, and are greatly looking forward to being there. Finger's crossed the summer sunshine continues for today and tomorrow.
Pooch and Purr will also be attending our first ever cat show in July too! We'll have our very own stall at the Scotia Cat Fanciers annual cat show in Lanark this year. Then we're at the Scottish Rex Cat Club's show in August too.
To see what's on at the Newmilns Show this Saturday, and how to get there click here
To see what's happening at the Carrick Lowland Gathering and where it's being held this Sunday, click here