08 Sep

Autumn update

Summer is officially over, and the colder wetter weather makes it way over Scotland!  We've had the odd day of sunshine (Millie and Regis have been complaining loudly about the changeable weather! They've been in and out the catflap more times in one day than I can count, due to the sudden showers) but slowly it's getting cooler and the days getting shorter.
Since our summer update…
We've had a nightly visitor in the form of an owl hunting in the area. All the boarding cats have been up at their windows keeping watch for the winged intruder whenever they hear it calling out. We've not had any sightings of it yet this year, but it's very noisy when not hunting!
Our first ever time attending a cat show, hosted by the Scotia Cat Fanciers at the Lanark Agriculture Centre, went well! There were so many different breeds of cats, and lots of traders selling cat products. It was a good day, and hopefully we'll be back again next year!
We also launched our luxury packages, an add-on service for boarding clients.  Our two main packages available throughout the year are our Birthday and Wedding Packages. We will also have seasonal packages available throughout the year (but more on that later!).
Latest from the blog
We have started a new series of blogs (posted monthly except when we have our quarterly news) on different aspects of cat care.  Here at Pooch and Purr, we often get asked advice on different things when it comes to cats – so we hope you all find our new posts helpful!
We kicked it off by talking about litter trays, as most available in pet shops are far too small for our feline friends. It seems they tend to base litter tray sizes on the size of the cat, rather than the space the cat needs!  To find out more about how to know what type, and more importantly what size, of litter tray your cat needs – click here
If there's anything in particular you'd like us to talk about, send your suggestions to: poochandpurrltd@outlook.com
Pooch Hotel Announcement
At the end of July, we had to announce that unfortunately we had to halt plans for our Pooch Hotel for the moment.  Due to circumstances outwith our control, our plans for our Pooch Hotel will be delayed for the foreseeable future.  While this is frustrating, we won't be completely giving up our dream of a luxury dog hotel! It just won't be as soon as we had hoped.
We thank everyone for their patience and support. It will hopefully be worth the wait!
In the meantime, we will be focusing on our Purr Hotel and new ways to expand our services and discover new ways to pamper our feline guests!
Halloween package launches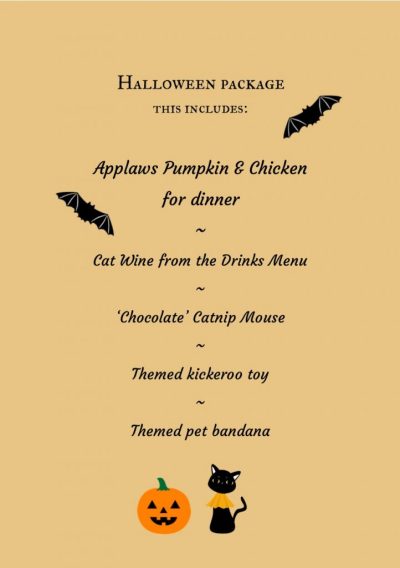 Autumn means Halloween is approaching! Besides Christmas, Halloween is my personal favourite of all the holidays! So with the start of Autumn, we are happy to announce our new seasonal package.
Any cats boarding with us between the 22nd-31st October can add this package on to their boarding service.  Cats will receive their goodies on, or as close to, Halloween.
Price for one cat is £15.00, and any additional cats are £7 each. Each additional cat gets their own 'choc' mouse treats, bandana, and chicken & pumpkin wet food.
Please note that chocolate is toxic to cats (dogs too!) so the catnip mouse is made from yoghurt, and not real chocolate.
For more information on this, and our other packages, please see here
If you would like to order this for your cat, and aren't boarding with us, please get in touch! (Note: collection from Pooch and Purr premises only, no delivery available).
Menu changes!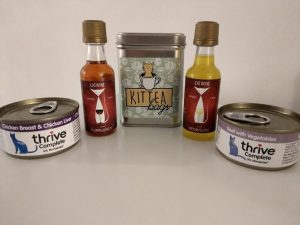 We have some new additions to our menus!  We now have more wet food to choose from on our dinner menu: Natures Menu have released a new flavour for their Country Hunter wet food – Turkey & Rabbit. Our range of Thrive wet food has extended to now include Chicken & Chicken Liver, and Beef with Veg.
Regis and Millie have done numerous taste-tests to ensure it meets their standards, and have confirmed that they have approved the new wet foods going on to the Dinner Menu.
Our PetWinery cat wines arrived from America, so we can now offer these alongside the Pawsecco. We also have a new addition to the Drinks Menu too. Now available: KitTea bags! Filled with catnip and valerian, the tea is served cold to ensure no burnt tongues.
Our dinner menu is included in boarding prices, while our PetWinery wines are £2.75 each and KitTea bags are £1.50 each.
Booking availabilities
We are fully booked for all of this month (September), and currently full between the 11th – 17th October too.
For over the festive period, we are fully booked for over Christmas. We have limited availability for over New Year, so we advise to book in with us as soon as possible!
Over 2019, we have also had a handful of enquiries too. Easter is nearly fully booked, with only one space left available. As we only currently have three rooms for boarding, we fill up very quickly and can't hold spaces.
You can contact us via email on: poochandpurrltd@outlook.com, or by phone on: 0777 0986 876
And that's a wrap!
That's it for this update! Stay tuned next month to see our next cat care post: Grazer or Guzzler? Feeding your cat.